Interested in entering one of the largest and most lucrative gambling markets in the world? You'll first need a UK gambling license. Here's everything you need to know about the application process, compliance requirements, UK gambling regulations, and much more.
The UK Gambling Commission (UKGC) operates as the UK's gambling regulator, and is an independent regulatory body established under the UK Gambling Act of 2005. To operate legally in the UK, all gambling platforms are required to hold a license issued by the UKGC. 
The UKGC is also responsible for implementing changes to national gambling regulations, such as the recent proposals contained in the UK's gambling white paper. Proposals target various aspects of the gambling industry, such as VIP customers, slot limits, and financial risk checks (formerly known as affordability checks).
Understanding UK gambling regulations.
The UKGC takes failure to comply with licensing requirements and social responsibility codes very seriously. Operators, therefore, must have robust systems and controls in place to prevent money laundering as well as a whole host of other nefarious crimes. They must also safeguard customers, take measures to prevent underage gambling, ensure fair play, and encourage responsible gambling to guarantee gambling compliance.
There are essentially three main types of operating licenses: 
Remote: This license allows licensees to provide casino games and gambling products to customers through an online site, TV, mobile phone, or any other type of online service.
Non-remote: A non-remote gambling license allows the licensee to facilitate betting activities at betting shops, tracks, and/or courses.
Ancillary: Ancillary licenses are for operators offering email and telephone betting. 
Operators may need one or a combination of these licenses.
Licensing is mandatory, even if an operator's online gambling platform is located in another region of the world. Essentially, if the services are being offered in the UK, operators must hold a license. (If you are interested in learning about the need for an online gaming license in general, click on the underlined copy).
Eligibility criteria for a UK gambling license.
The Commission evaluates applicants based on the following criteria: 
The identity of the applicant and people associated with them. For example, if the applicant's gambling platform is part of a bigger corporation, then the owner of that corporation also needs to be evaluated.
The applicant's honesty, integrity, and trustworthiness
Financial statements that display the business is financially capable of operating successfully after obtaining a license
The applicant's expertise, experience, qualifications, history, and those of the people relevant to the application
The applicant's criminal record and those relevant to the application. 
The Commission also looks at the applicants' policies to ensure that: 
They incorporate and understand the legislation
They follow the established licensing objectives
They hold evidence that their arrangements will adhere to social responsibility requirements
Application process for a UK gambling license.
Applicants apply for an operating license from the UKGC via the "Apply for an operating license" service. It takes around 16 weeks for the Commission to process a license application, considering all the required information is submitted at the point of application. Applying for a UKGC license costs £370, which must be paid via credit or debit card.  
Operators are required to provide an extensive array of documents, some of which depend on the type of business applying for the license. For instance, a sole trader may only be required to submit identity documents, whereas a limited company would be required to submit the following:
Ownership structure diagram
Articles of association
Management structures
Certificate of incorporation
Memorandum of association 
Overseas entities must submit a credit report and, if they have licenses elsewhere, copies of licenses issued by the other jurisdictions. 
For a remote license, an operator must provide the following: 
Documents regarding remote policies and procedures
Operational model map
Gambling software supply method and details
System diagram displaying the end-to-end process 
Some requirements are considered core documentation and are mandatory in all cases. Such requirements include the following: 
General policies and procedures–these must adhere to the standards outlined in the LCCP (Licence Conditions and Codes of Practice)
Rules of play
Customer terms and conditions
Bank statements for the past six months for all accounts
Business plan
Proof of funding
Profit and loss projections for the next three years 
Those responsible for managing the business must also submit a PML (Personal Management Licence) or an Annex A personal declaration form based on the circumstances.
Key considerations for license applicants.
Those applying for a license from the UKGC must have a comprehensive business plan for their application to be approved. A sound business plan shows that the operator understands their objectives and the steps required to achieve them.  
Operators must also focus on responsible gambling and protection practices. This includes offering tools like deposit limits, self-exclusion, and helpful resources for customers who may struggle with or be on the verge of developing a gambling addiction. Moreover, the operator's platform must also be secure, employing technologies such as SSL encryption to secure their customers' personal and financial information. 
Implementing robust anti-money laundering and fraud protection strategies, such as KYC and AML solutions, is also essential. Operators can help identify and mitigate gambling fraud and crime by conducting due diligence and transaction monitoring. Keeping updated with industry regulations and best practices is also among the key considerations for license applicants.
Gambling regulations 101: EU and the UK.
Learn how gaming operators can keep pace with the ever-growing multi-jurisdictional landscape in Europe and beyond.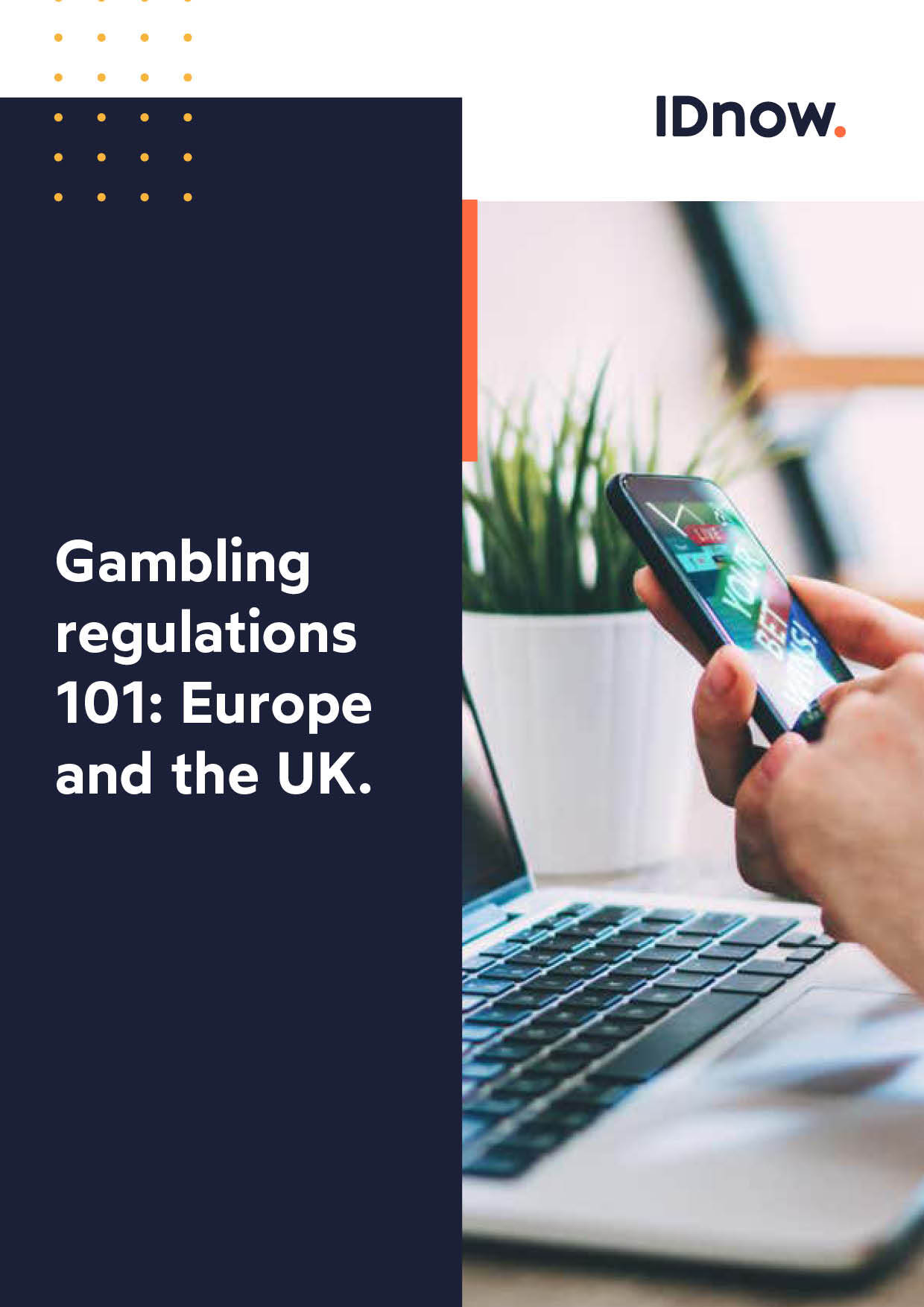 Compliance and reporting obligations.
All UKGC license holders must adhere to regulatory obligations that must be observed at all times. Such obligations include upholding integrity in all aspects of their operations, maintaining accurate records, reporting crucial information promptly, and ensuring they offer fair, safe, and transparent services to customers while taking active measures to prevent problem gambling.  
Failure to comply with such obligations can lead to dire consequences, including heavy fines, license revocation, and strict legal action.
Licensing fees and taxation.
For licensing purposes, operators are divided into a total of nine categories according to their GGY (Gross Gambling Yield). For example, a gambling operator with a GGY under £550k will be required to pay an application fee of £4,224 and an annual fee of £4,199. On the other hand, operators with a GGY worth £1 billion must pay an application fee of £91,686 and a yearly fee worth £793,729.  
As per the Point of Consumption Tax (POCT) introduced in 2014, the Commission requires all licensees to adhere to tax requirements to operate legally. This includes taxes on all profits from gambling activities, regardless of where the operator is based, and abiding by regulations regarding the collection and reporting of taxes. The POCT has profoundly impacted the UK's gambling industry, urging operators to adapt and comply with the evolving tax requirements to remain compliant.
License renewal and revocation.
The procedure for license renewal is like applying for an initial application. You need to submit a renewal application within six months before the license expires but no later than two months prior to its expiration. The Commission may refuse to renew a permit on the following grounds:
If the renewal is inconsistent with the licensing requirements. In this instance, the authority may consult the chief officer of the police. The authority will, therefore, be wary of any concerns regarding the use of the premises during the life of the license.
If an authorized local government officer has been denied access to the premises without a reasonable excuse. 
The Commission may also revoke a license holder's permit under the following circumstances: 
The license holder is unable to carry out licensed activities consistent with the licensing requirements.
The Commission is dissatisfied with the licensee's financial standing.
The Commission is dissatisfied with the licensee's competence.
The Commission believes that one or more license terms have been breached 
The Commission usually informs the license holder if it reaches a decision about their permit. The licensee is allowed to appeal against a decision if: 
They receive a fine or warning.
Their license application has been turned down.
Their license has been revoked or suspended.
There are changes in their license terms
Marketing and advertising guidelines.
Licensed operators must be wary of the advertising standards and restrictions established by the Commission. Such standards exist to protect minors and the vulnerable from being unfairly targeted by gambling ads and ensure that all advertising is fair and transparent.  
Regarding responsible marketing practices, operators must be mindful of the guidelines and undertake advertising in a socially responsible manner, including the stipulations on the use of certain messaging and imagery. This is to say that all licensees' marketing communications must not mislead customers. Operators must adhere to the UK Advertising codes published by CAP (the Committees of Advertising Practice) and governed by the ASA (Advertising Standards Authority). 
International expansion and cross-border licensing.
Many operators explore other markets to increase their customer base and diversify their revenue streams. However, various legal stipulations are linked with cross-border licensing, including ones based on licensing, taxation, and regulation.   
As previously noted, operators based abroad must provide a credit report. If they carry a license from other jurisdictions, they must provide a copy of the licenses issued by other jurisdictions.
UK gambling license FAQs.
What is a UK gambling license?
Operators must acquire a UK gambling license to provide gambling services in the UK. The license includes facilitating remote gambling, online or through different means, and advertising (responsible) gambling to UK-based consumers.  
Who needs a UK gambling license?
Operators looking to offer gambling services and advertise gambling to consumers in the UK are required to hold a UK gambling license. 
How long does it take to obtain a license?
It can take up to 16 weeks to obtain a UK gambling license. The timescale can depend on several factors, with the most important being the strength of the application.
What are the costs involved in obtaining a license?
The costs for obtaining a license depend on the operator's GGY. For instance, an operator with a GGY below £550k must pay an application fee of £4,224. This increases significantly for the highest earners in the industry. 
How can I ensure compliance with UK gambling regulations? 
To ensure compliance with UK gambling regulations, the operator must ensure that their business is fully licensed by the UKGC. They must also have robust policies and procedures in place to address problem gambling and crime. It is also crucial to stay updated with any UK gambling laws and regulations changes. 
Can a license be transferred to another operator?
No, operating licenses are essentially non-transferable. Meaning that every gambling platform is required to go through the same process in the UK. 
Game on.
Like other industries, gambling has seen significant digital transformation in recent years. Adhering to recently updated and upcoming gambling laws and regulations is essential to launching a gambling platform in the UK.  
Effective procedures such as KYC and AML solutions can also help operators guarantee compliance with international regulatory requirements.  
Our highly configurable platform for identity proofing in the gaming market allows operators to keep abreast of constantly changing regulations, and new fraud schemes and scams, while ensuring a safe, secure and seamless gaming experience. With our latest round of platform enhancements, we now offer UK-specific data checks, and financial risk checks, which provide operators with insights into a player's affordability indicators to comply with the latest updates to the UK Gambling Act.
By